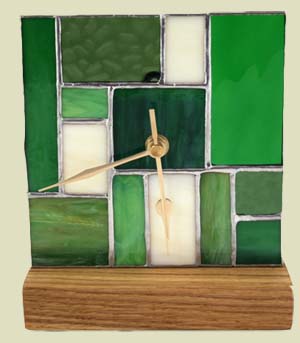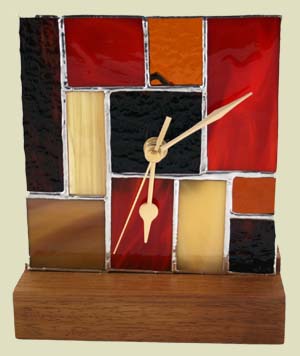 These stained glass clocks are made in the traditional way with copper foil and solder the mantle clocks are set into an oiled hardwood base and have a quartz clock mechanism fitted which runs on a AA alkaline battery ( which due to postal regulations we do not supply )
The stained glass mantle clocks are £25.00 each are 15cm x 18cm including the hardwood base.
Our collection of slate clocks include ones made from recycled and new slate. most of the dial numbers are made from stainless steel which are laser cut from plate and bonded onto the slate. The slate is finished off with a coat of oil to make the surface shine, this can be reapplied when the shine dulls a little.The wall clocks all have hanging brackets and all movements are quartz which are very reliable but please use alkaline batteries for the best result. Due to fact that all the clocks are handmade the sizes are all approximate
Due to postal regulations we do not supply a battery but have found the Alkaline AA batteries give the best results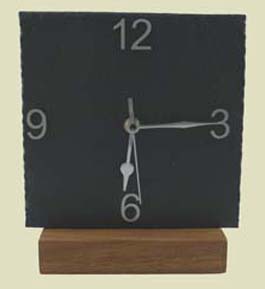 18cm square slate mantle clock with stainless numbers and set on an oiled hardwood base
SSMC-1 £25.00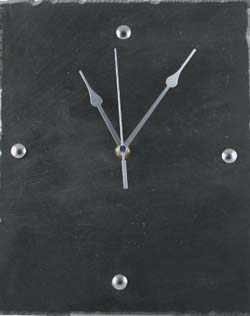 23 x 28cm oblong recycled slate wall clock
OSWC-1 £25.00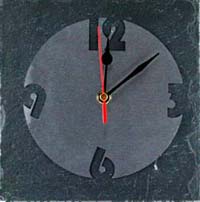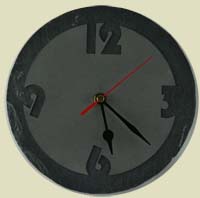 19cm square slate wall clock with stainless steel plate
18cm diameter slate wall clock with stainless steel plate
SSWC-4 £22.00
RSWC-1 £22.00
CLOCKS MADE FROM 78 rpm RECORDS ARE £15.00 EACH INCLUDING POSTAGE
ON THIS PAGE WE HAVE OUR SLATE CLOCKS ALONG WITH OUR STAINED GLASS CLOCKS AND A NEW ADDITION TO OUR COLLECTION ARE THE VINTAGE 78 RPM RECORD CLOCKS .ALL THE PRICES INCLUDE SHIPPING
Can be made to order please contact us for details
Vintage 12" 78 rpm records recycled - upcycled into the clocks you see here.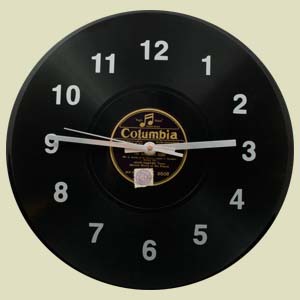 COLUMBIA LABEL 78rpm clock with Silver numbers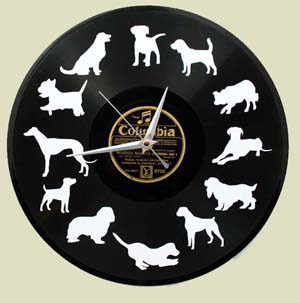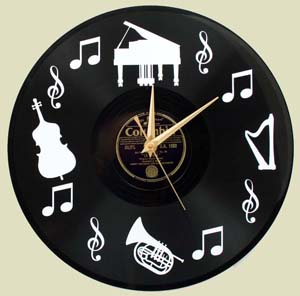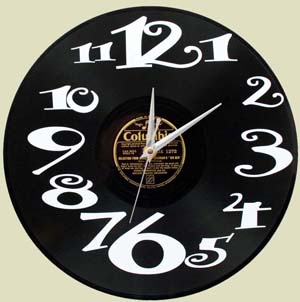 78rpm record with white vinyl Dog silhouettes
78rpm record with white vinyl numbers
78rpm record with white vinyl musical themed silhouettes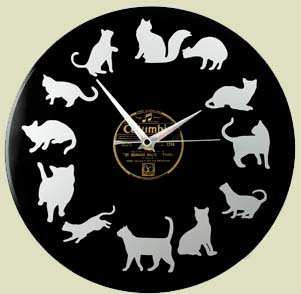 78rpm record with Silver vinyl Cat silhouettes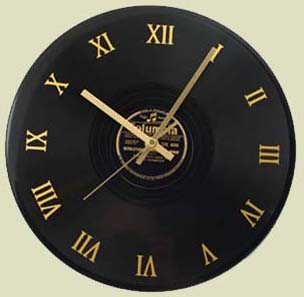 COLUMBIA LABEL 78rpm clock withgold Roman numerals